ABOUT
☆Suma/Sumatsuki☆
☆he/him//they/them☆
⚧️annoying transsexual
♡taken♡
🐯❤️🦘
---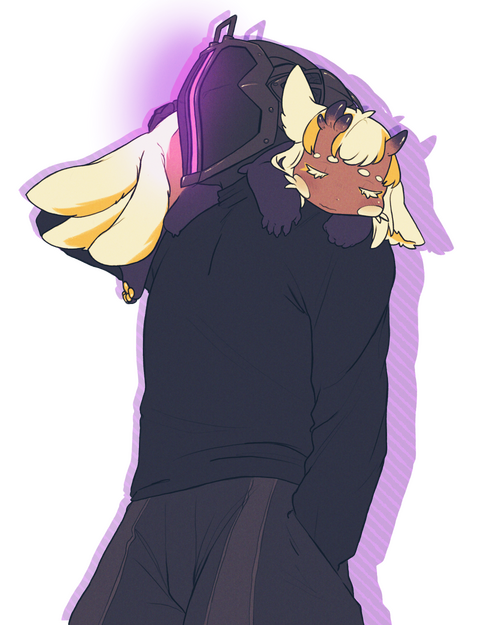 Terms of Service
I. GENERAL TERMS1. Please write in a clear manner, be precise on what you'd like. If you're not sure, I'm happy to brain storm with you.2. I won't tolerate any sort of rude behavior or anything that crosses a line where I'm put into a uncomfortable situation, refusal to behave in an apropriate manner might end in cancellation of the commission (without refund).3. Blank/empty accounts must provide links/art pieces as an identity check, this is just so I can protect myself. Being vouched by another active user will do too.4. Provide a reference sheet, in the lack of such, please provide enough pieces I can use for reference, or describe the character clearly.5. If the commission features original characters that are not yours, you MUST ask for the owners permission.6.Unless the piece is meant to stay private and paid accordingly, I can and will post whenever and wherever I want.¹7. Obviously no minors.(¹: see section IV. Copyright, line 1)II. PROCESS1. Be ready to trade discord/telegram, as I like keeping my clients informed as I work.2. I'll send several wips of the piece and won't proceed to the next stage until I have your full approval.3. Your commission might take from a few hours to several months. All depends on complexity, waitlist, and personal life matters.4. The client is entitled to any change during the sketching process, past that the client might be charged depending on the change/tweak.III. PAYMENTS1. Payment is done full upfront at the start of the sketch, leniency will be given if necessary.
2. Only in Euro (€) currency unless stated otherwise
3. P/yp/l is not a payment option anymore. Ask for options in dmIV. COPYRIGHT1. As the artist, I hold every right to the work produced.
I am allowed to use it to:
1.1. Promote myself.
1.2. Display anywhere and anytime I choose.
1.3. However, the commissioner will still be linked unless they wish to stay anonymous.2. The commissioner is allowed to:
2.1. Use the copyrighted artwork for personal use only.
2.2. Print it
2.3. Use it to promote themselves (as long as proper credit is given)
2.4. Post it anywhere (that doesn't include sites where I have a DNP¹)
(¹currently E621)3. Copyright infrigment:
3.1. Changes to my work that aren't done by me
3.2. Removal of the watermark
3.3. Commercialization of the copyrighted artwork.V. REFUNDS AND CANCELLATION1. If you decide to cancel in the middle of the creation process. You are not entitled to a refund.
2. However a cancellation before starting your piece will be accepted and you will be refunded.
3. I will also not refund after completion of the piece.
4. If you do decide to chargeback against me, I will be sure to file a complaint since I have all the right to the money you've given me.
5. I will blacklist you permanently too and warn others of you.
---
Dos and Don'ts
♡YES:♡
Loli/shota/Cub
LGBT
Age dif
Size dif
Guns
Beast
Sexualizing deadly diseases
Vomit
Tots
Non-con
Light Gore
✗NO:✗
Vore
Mecha
Armor
Raunch/Scat
Dirty Diapers
Inflation
Political art
Hyper
Bigotry
Overly detailed/complicated characters
---
COMMISSIONS
| Sketches* | Price | +Background |
| --- | --- | --- |
| Pen Sketch | 30EUR - 35EUR | ----- |
| Colour Sketch | 35EUR - 40EUR | +25EUR |
*prices are per character
| Coloured* | Price | +Background |
| --- | --- | --- |
| Flats | 40EUR - 50EUR | +40EUR |
| Cell Shade | 50EUR - 60EUR | +45EUR |
| Full Colour | 60EUR - 75EUR | +60EUR |
*prices are per character
| Extras | Prices |
| --- | --- |
| Reference Sheets | 100EUR - 150EUR |
| Stickers | 20EUR - 25EUR |
| Comic Page | TBA |
| Fees | |
| --- | --- |
| Payment processor fee | 8% |
| Do Not Post fee | 40% |
| Full rights/Commercialization fee | 70% |
| Priority fee | 50% |
| Commission Status | Sale |
| --- | --- |
| OPEN | --- |
---
Main Sona
☆Name: Suma
☆Species: tiger/kemonomimi
☆Pronouns: he/him//they/themExclusively shipped with Roo Fursworth
(Get permission before using)
---
MiA Sona
☆Name: Umi
☆Species: narehate
☆Pronouns: they/themExclusively shipped with Bondrewd
(Get permission before using)
---
Secondary Sonas
☆Name: Foxy
☆Species: artic fox
☆Pronouns: he/him//they/them(Free use, just credit oc and be respectful)
☆Name: Haley
☆Species: bunny
☆Pronouns: he/him//they/them(Free use, just credit oc and be respectful)
---
Other Ocs
☆Name: Alex
☆Species: dog
☆Pronouns: he/him//they/them
Co owned
(Needs co owner permission)
☆Name: Cassandra/Cass/Cassie
☆Species: bat
☆Pronouns: she/her
Co owner
(Needs co owner permission
☆Name: Mavis
☆Species: lyssavirus/bat
☆Pronouns: she/her(Free use, just credit oc and be respectful)
☆Name: Pumpkin
☆Species: cat
☆Pronouns: they/them(Free use, just credit oc and be respectful)
☆Name: Cho
☆Species: human/bun
☆Pronouns: she/her//they/them(Free use, just credit oc and be respectful)
☆Name: Ari
☆Species: human
☆Pronouns: he/him(Free use, just credit oc and be respectful)
☆Name: Rue
☆Species: human
☆Pronouns: they/them(Free use, just credit oc and be respectful)
☆Name: Echo
☆Species: ???
☆Pronouns: he/him//they/them(Do not use)